---
---
Hamonite
---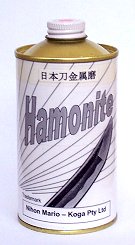 Hamonite's international release:

April 1 2005
Mr. Ouso of Nihon Mario-Koga Pty. Ltd is pleased to internationally announce a new type of polish that he thinks will revolutionize the Nihonto (Japanese Sword) community. He was available at the official release breakfast this morning to comment on his product.
"This is like no other polish on the market.

Also it is applied differently, unlike most products that are just applied with a cloth, Harmonite can act very similar to hazuya when applied with choji oil." Ouso-san said.
Mr Yamaguchi of the Really Old But Nice To Look At Sword Museum (this is a direct translation from the Japanese name) was astounded when he first used Hamonite last year when it hit the domestic market.
"I couldn't believe my eyes" he said "I had a couple of Bizen Wakizashi that were out of polish, so, rather than wait 9 months for our usual polisher to do them I thought I'd try Hamonite.

Within a few hours I had achieved a polish that looked like it was done by a Tôgishi (professional sword polisher). I have since gone over a few of the older blades in the collection and most of them look better, except for one katana that I accidentally dropped while cleaning it. The rest are amazing now, far better than before.

This stuff will save me a fortune in polishing cost and it cleans old pans too"
It appears that not only Mr. Yamaguchi has enjoyed saving a few yen in polisher costs whilst. Tôgishi, Mr. Yubi Itai is trying to get an injunction placed on Harmonite.
"Ever since this was introduced in September 2004 my frequent customers seem to be disappearing"
Mr. Ouso says that the secret to Hamonite is that it was created specifically to polish Nihonto, unlike other metal polish products. "Hamonite contains Polymorphic Isotopiculated Siliconic Crystalline Emulative Solution (PISCES), these very closely emulate the gentle buffing properties of hadori when applied with choji, but when applied with water they change to a more abrasive compound like hazuya. The amazing thing about the PISCES is it's character can change by adjusting it's mixture."
"Many polishers know the problem of matching polishing stones and hazuya to particular swords. The same matching process can be achieved by adjusting the component that Hamonite is mixed with. For example I had a Nagamitsu Tanto that wouldn't polish properly with straight choji, so I tried 85% choji with 15% water and it worked much better. I tried it on a Kunisumi Wakizashi and it was wrong again, so I mixed Hamonite with 65% choji and 35% water. The change was very significant. Some technicians are not developing a chart of suggested mixture ratios for the swords they have polished. They have even found that changes in the water properties can react with the PISCES. Water from a river in Aichi will react differently with the PISCES compared to spring water from Ehime" he says.
"We are starting to think we may even have to sell bottled water from various locations to help people get the right mix" he added.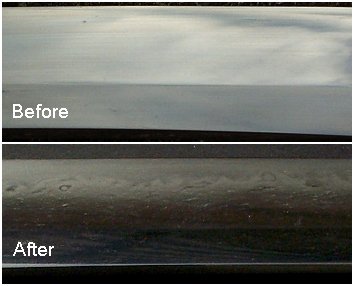 Mr Ouso also stated that Hamonite contains no acids. It doesn't etch the blade like some "fake" polishes do. It contains no animal fats either.
---
This page was created Friday 1st April 2005 - THINK ABOUT IT!!

---
---