---
---
Looking at swords in Okayama prefecture
---
Osafune

---
During my holiday to Japan in November 1999 I visited the town of Osafune (Okayama prefecture) famous for it's great sword smiths of the past.
The town of Osafune is surprisingly rural for a town that is just under 30 minutes from the city of Okayama by train.
The reason I was there was to visit the Bizen-Osafune Sword Museum.
There was a large map near the station so I got my bearings and walked towards the museum. There were a few signs on the way, the last few were in Japanese.
In what looked like the middle of nowhere was the museum, it's workshop and a souvenir shop.
---
THE MUSEUM
Open Tuesdays to Sundays 9:30 - 5:00 the uninspiring building provides very little clues as to the treasures it contains.
I paid the 300 yen and entered.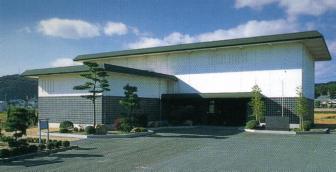 The building has 2 levels.
The ground level has a room to the left, after entering. This room displays various fittings, but no blades.
The next level contains a thick steel door, like a bank vault. In this room are the treasures of a time gone by.
At the time I visited there were 12 katana/tachi, 6 wakizashi, 5 tanto and 7 daisho (katana/tachi and wakizashi sets) on display.
Later I was to visit the Sword Museum in Tokyo. I found the location and atmosphere of the museum at Osafune to be more inspiring and the collection pieces where just as good as the more famed museum.

---
WORKSHOP
Open every 1st and 3rd Sunday at 11:00 and 1:00 this is a unique chance to see blades being made.
Unfortunately I missed the chance to see this.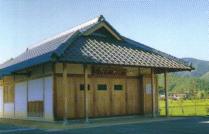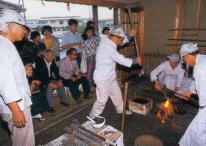 ---
SOUVENIR SHOP
I bought some books in the lobby of the museum, only to find different books available at the souvenir shop.
If you like Nihonto (Japanese swords), don't go past this shop. The prices are very competitive (compared to other sword places in Japan) and they have of good range of accessories (Cleaning kits, knives, etc...)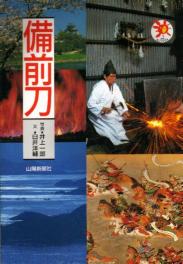 ---
HOW TO GET THERE
Osafune is very accessible. It is less than 30mins (27-28mins) from Okayama station (on the Shinkansen "Bullet Train" line).
Okayama is west of Osaka, with Himeji about half way.

Here is a closer map showing the railway line to Osafune.

Finally a map of the town of Osafune and the location of the museum.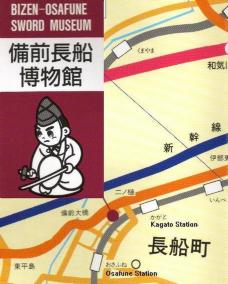 (Click for a larger image)
---
BACK
---
This page was created Friday 2nd June 2000