---
---
Looking at swords in Miyagi prefecture
---
Shiogama

---
During my holiday to Japan in November 2001 I visited Shiogama Jingu (Miyagi prefecture) after having been informed by some locals that there were some big swords there.

Shiogama is a pretty shrine with a number of buildings and gardens within it's extensive grounds.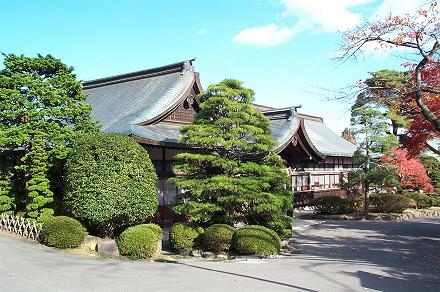 ---
THE SHIOGAMA JINGU MUSEUM
Open 8:00-17:00(Apr-Oct)/ 8:00-16:00(Nov-Mar) the museum is a fairly modern structure in the corner of the shrine's grounds.
The address is 1-1 Ichimoriyama, Shiogama, Miyagi.
Admission fees: Adult JYE \200 Child JYE \150.
The museum holds around 5,000 artifacts about Shiogama's history, such as treasures, swords, handwriting, and paintings. I was primarily interested in the swords.

This short sword (Wakizashi) was very thick. The guide informed us that it was actually too thick to be a practical weapon and was a ceremonial piece.
---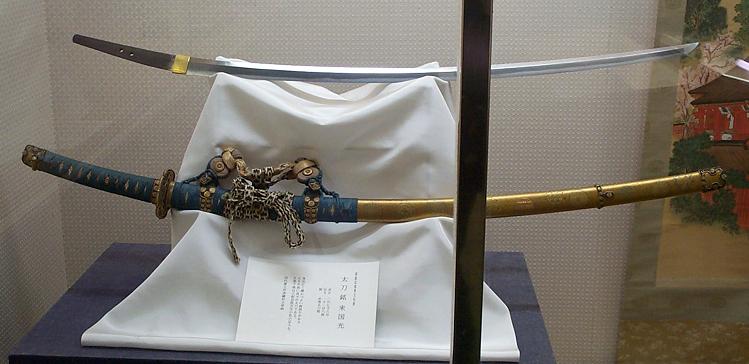 This Tachi was made by Raikunimitsu in the 14th Century, the blade length is 83.6 cm.
---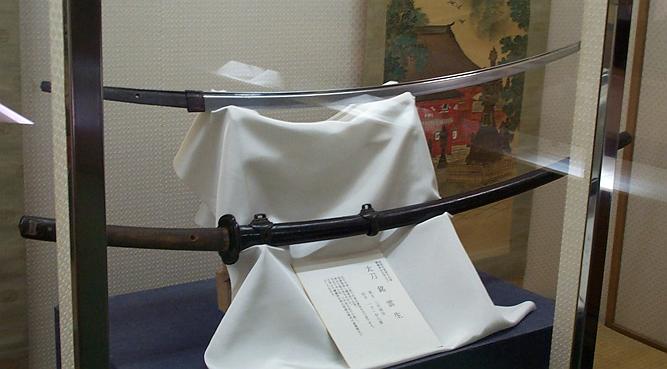 This Tachi (long sword) was made by Unsho in the 14th Century, the blade length is 92.1 cm with a curvature of 3.5 cm.
---

This Nodachi (field sword) is 120.9 cm long with a 3.3 cm curvature.

As this museum is not a dedicated sword museum the blades on display were not as good as many on display at Osafune but it was nice to see some very long Tachi and Nodachi.
---

HOW TO GET THERE
Follow the signs from Hon-Shiogama Station for directions to the shrine.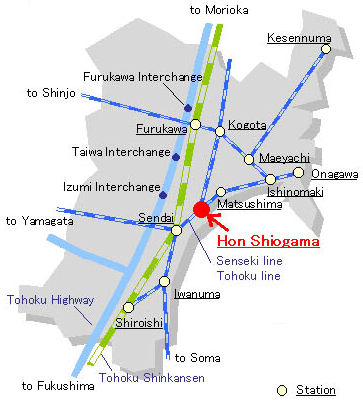 ---
BACK
---
This page was created Monday 12th Aug 2002