---
---
Ride to Melbourne (Day 1 - Thursday 13th August '98)
---
Click for map of ride
The morning of Thursday 13th August greeted us with a clear blue sky. By 9:30 we were ready to leave. The BMW had 23104 kilometres on it's odometer and the GPz 550 had 61766 kilometres. On Wednesday I had raised the preload on the rear shocks to see what difference this would make. After taking the photo below we put our helmets on ready to depart.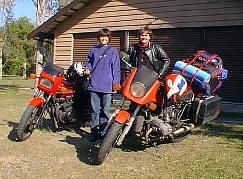 Problem number 1 - The BMW didn't want to start (as half expected) I had topped up the battery fluid ready for the trip in the hope that this would solve my starting problems (which only occurs in the mornings). To save time I roll started it with Junko's assistance. We left my place at about 9:35am.
At about 10:25am we got petrol in Fortitude Valley, Brisbane.
Next stop was work (10:45am) to apply for 2 more days leave (Thursday 27th and Friday 28th) finally we were on the road again.
We stopped at Hungry Jacks near Mudgerabah for about 25 minutes for lunch at 12:20pm.
From there we continued south on the highway to the Byron Bay turn off stopped only by roadworks. We reached Byron Bay at 2:45pm, after a quick look around we returned back to the highway. Our next scheduled stop was to be Bangalow, but as the highway went past a rather scenic lookout we couldn't resist stopping and taking some photos, that was about 3:15pm.
Next we headed on to Bangalow (at 3:25pm) then on to Ballina by 4:00pm.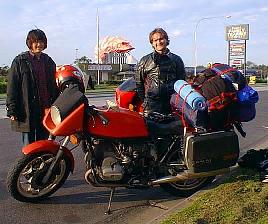 (Click for a larger image)
We got more petrol at Broadwater at 4:40pm, I bought dinner at Woodburn then we headed on to Woody Point to camp the night. With poor light it was difficult to maintain the posted limit of 100kms. The road in was narrow with thick vegetation on either side. I was more worried about hitting native animals than trying to do 100kms, so a few cars overtook us.
We arrived at the camping ground at 6:30pm and set up the tent in the dark, then I disconnected the BMW's battery just in case that mornings incident was caused by some sort of short circuit. And so ended day 1 of our ride to Melbourne.
---
---
BACK
HOME
NEXT
This page was created on Friday 18th September 1998