---
---
Ride to Melbourne (Day 9 - Friday 21st August '98)
---

Click for map of ride
We got up at about 7:00am and left Cann River at about 9:00am, the BMW started without any problems. (Odometer reading 25298 kms). As we crossed the Bemm River I looked in to the valley below to see a lot of felled trees. We crossed the bridge and climbed up the road, there were still a lot of fallen trees and debris. I looked for evidence of logging, but there was no saw dust around the trees, then I realised that the debris more like the sort left by a flood. Curious I stopped further up the road. I was about 10 metres above the river level and there was still debris in the trees beside me at head level. I asked Junko if she saw the trees in the river that looked like a bomb had gone off. She hadn't. We continued on to Cabbage Tree Creek were we stopped at the General Store. The sign said "Bikers welcome". I asked the lady inside if there had been any recent flooding at the Bemm River. She said that there certainly had. The Gippsland floods in June. I was stunned by the damage at Bemm River.
We continued on and reached Orbost at about 10:15am. We took some photos and left at about 10:45am. The weather was becoming overcast.
We continued on and reached Lakes Entrance at about 12:00. From there we went to Johnsonville, home of "The Black Stump".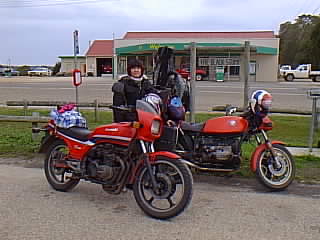 We had lunch at Bairnsdale at about 12:50pm and left at about 1:25pm. We continued on through Sale and reached Traralgon at about 4:30pm. With daylight fading we still had a few hours riding to do before we would get to Melbourne.
We stayed on the Princes Highway, bypassing the towns that it once went through, until we reached the outskirts of Melbourne.
We finally reached my sister and brother-in-law's house in Donvale at about 7:10pm feeling tired after covering 489 kms in mild weather.
---
---
BACK
HOME
NEXT
This page was updated on Thursday 5th November 1998