---
---
Ride from Melbourne (Day 2 - Thursday 27th August '98)
---

Click for map of ride
We got up at about 8:30am. The weather was fantastic. Clear blue sky. A man in the Caravan Park asked me if I was cold last night. I replied it was cool, but I wasn't freezing. He then told me that when he woke up earlier, at about 6:30am, there was a slab of ice on his car bonnet about 2 cm thick! I was grateful that I had a good sleeping bag. After yesterdays incident with the BMW tipping over I lowered the rear suspension so that the back of the bike would sit lower. The BMW started alright and we left Wodonga at about 10:30am (Odometer reading 26836 kms). After stopping at the Information Centre we arrived at the Ettamogah Pub at about 11:30am.

A few kilometres passed the Ettamogah Pub we took the Olympic Highway to Wagga Wagga. The road surface was a bit rough in some places but it improved as we travelled further north. We arrived at Culcairn at about 12:15pm.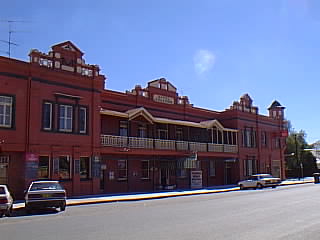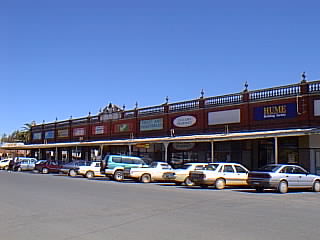 We continued on through Henty to a town called The Rock.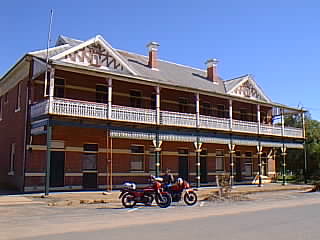 Between The Rock and Wagga Wagga we saw fields full of Canola in flower.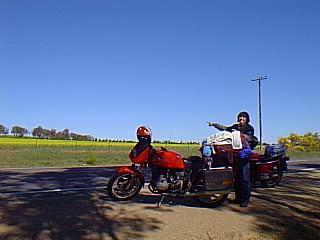 We reached Wagga Wagga at about 2:30pm where we had a late lunch in a nice little cafe off the main road. We left at about 3:30pm and reached Monte Cristo at Junee at about 4:20pm. We took a few photos of the lovely restored homestead before continuing on.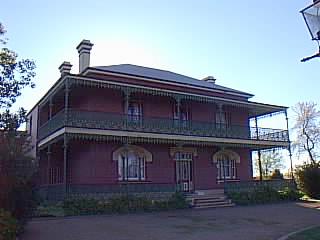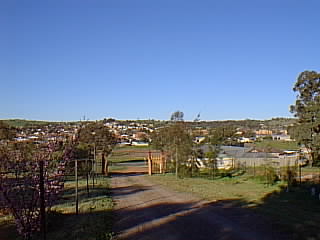 A few minutes up the road from Junee we came across this lovely old weathered ruin.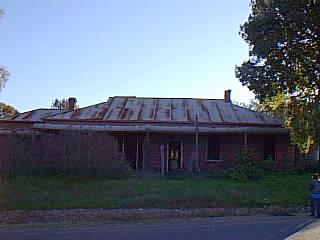 Closer inspection of this old "stone and brick" ruin revealed that it was actually a cleverly painted tin ruin!
Continuing on through Temora to West Wyalong we passed through some areas with signs of heavy rain. There were pools of water on the side of the road. We reached West Wyalong at about 6:15pm and got more fuel. The cashier at the petrol station informed me that the road was closed near Goondiwindi due to floods. As it was a few days away to Goondiwindi I didn't worry about it so much. I was more concerned about travelling in the dark to Parkes, where we intended to stay the night.
A motorist told me that there were a few road works in progress but nothing too bad and no flooding. We headed off in the dark and reached Forbes at 7:15pm. I bought some oil the GPz (as I hadn't seen the type I wanted at any other places, despite looking since we left Melbourne). The night air was quite cold so we were keen to reach Junko's friend's place in Parkes. We did at about 8:00pm. Then we enjoyed at delicious dinner, cooked by Junko's Japanese friends and watched Japanese videos. We had travelled 439 kilometres that day.
---
---
BACK
HOME
NEXT
This page was created on Friday 6th November 1998