Ride from Melbourne (Day 3 - Friday 28th August '98)
---

Click for map of ride
We got up at about 8:00am and I checked the oil level of the GPz550, then added about 200 mls to top it up and lubed the chain. Shortly afterwards breakfast was ready, so we ate as we watched a Japanese music video. After packing and taking a few photos we finally left Parkes at about 11:30am (Odometer reading 27275 kms).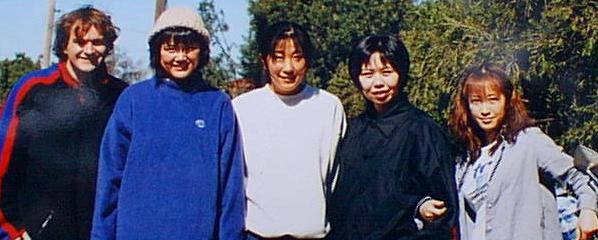 Further up the road we stopped to take photos of the Radio Telescope and canola fields.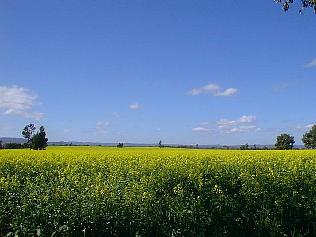 (Click for a larger image)
As you can see from the photo, the weather was fine. We reached Dubbo at about 1:30pm and spend about an hour there just to get money, souvenirs and petrol. We continued on through 2 sections of road works that consisted of muddy sections that flicked mud onto my leathers and arrived at Gilgandra at about 3:30pm. We went into the Tourist Information Centre where a helpful lady informed us that the road was flooded north of Moree and Goondiwindi. We had the lunch that Junko's friends had supplied us with and left at about 3:45pm.
There were more road works on the way the Coonabarabran, which slowed our progress a little. We arrived at Coonabarabran a few minutes before 5:00pm, and caught the Information Centre before it closed. From there we went into the town centre where I was pleased to see that the bakery was still open! I made some purchases before we headed north again.
The sun was setting as we entered the Pilliga Scrub - a large section of bush between Coonabarabran and Narrabri. I had hoped to arrive earlier to avoid riding through at dusk, but time had got the better of us. As we continued north I worried about hitting a kangaroo or other wild animal, while Junko worried about running out of petrol. A bird flew across the road in front of me. By the time I realised that the bird was flying very slowly it was too late to avoid it hitting me. I swerved to miss it, but it still smashed into my right shoulder. Luckily my leather jacket absorbed most of the impact so I was able to continue riding without too much discomfort. Junko followed behind me through a cloud of feathers. Further up the road she stopped to express her concern for her petrol level as she had switched to RESERVE. I told her that I wouldn't leave her if she ran out of petrol and that the BMW had enough to get the both of us to Narrabri if need be (whilst hoping that I wouldn't have to stop in the "Pilliga" to refuel her bike as I didn't want to meet any of the wild boars that are sometime there). Luckily we made it to Narrabri at about 6:30pm and refuelled. We booked into the local Caravan Park then went into the town centre for dinner at KFC. We had travelled 402 kilometres that day.
---
---
BACK
HOME
NEXT
This page was updated on Wednesday 25th November 1998