---
---
Ride from Melbourne (Day 4 - Saturday 29th August '98)
---

Click for map of ride
We got up at about 8:30am to a cloudless blue sky. I looked at the mud on my leather pants and bike from the road works encountered the previous day.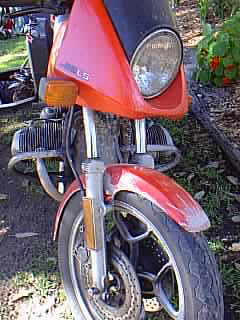 After breakfast and packing up we left Narrabri at about 10:50am (Odometer reading 27677 kms). After stopping to watch some crop dusting we arrived at Bellata at around 12:00 and had a drink.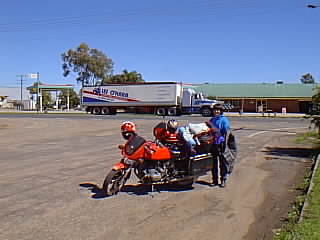 A few kilometres south of Moree there was water over the road! We took it easy riding through, but I still ended up with wet socks..
At the Information Centre at Moree we were told that the road to Goondiwindi was still closed. There was also water over the road at "The Wash Pool" on the detour road.

After riding through "The Wash Pool" I ended up with wet socks again! Not sure if there was anymore flooding we continued with caution. A few kilometres out of Gravesend I saw a rather fresh, green "sample" that a cow had strategically placed in the centre of the road. I noticed it in time to avoid hitting it, but Junko wasn't so lucky and ran right through the middle of it...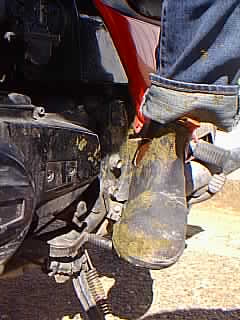 We continued on and got fuel at Warialda at about 2:30pm. We continued through Delungra to Inverell.where we had a late lunch at about 4:00. We arrived at Glen Innes at about 5:30pm and booked into one of the Caravan Parks. It was surprisingly cool at Glen Innes, so after putting on warmer clothes we headed up the street to have dinner at a Chinese Restaurant. The meal was very nice and not too expensive. Back in the tent I reflected on the events of the day. We had travelled 331 kilometres that day. With only one day left to get home I hoped we wouldn't run into any problems the following day.
---
---
BACK
HOME
NEXT
This page was created on Tuesday 24th November 1998